Dawn Brock (Chair)
Mandy Jarvis (Deputy Chair & Marketing)
David Robinson (Treasurer)
Elizabeth Keating (Secretary)
Peter Brock (Mens' Shed – Project Leader)
Ken Jarvis (Mens' Shed – Deputy Project Leader)
Annabel Williams (Recruitment)
Carol Ewart (Link Member & Minibus Transport Support)


Dawn Brock
Minibus Driver and Chair of Executive Team
My name is Dawn Brock and I have lived in Heathfield for 15 years. During the majority of my working life I worked as a Special Educational Needs Teacher, more latterly at Sussex Downs College in Lewes. I have always been interested in trying to understand and support the needs of the more vulnerable members of our society but in particular those living in more rural environments as the problems they have to overcome are often far greater due to the lack of resources available to them and difficulties in accessing them. For the last five years of my working life I worked for Action in Rural Sussex, an organisation who seek to support services, businesses and projects in the rural communities of East and West Sussex. During that time I was particularly involved in Community Transport and developed a good understanding of the financial and practical problems faced when trying to run a venture such as this, and by collaborative working, tried to help overcome some of these issues. Now that I am retired I felt it was important to invest some of my time in volunteering and supporting the community in which I live. I consider myself to be an active member of the community – I am secretary of the Cross-in-Hand WI, volunteer at the Autism Sussex Charity shop and am on two of the Country Lunches teams. In addition I was delighted to be asked to become involved in supporting the Age Concern bus and car services. My husband Peter and I both drive the buses and I also support the team by giving admin support. I hope that my previous experience will mean I can make a valued contribution to ensuring the service that Age Concern in Heathfield provides continues to meet the needs of the local community and will go from strength to strength in the future.

Peter Brock
Minibus Driver and Men's Shed Project Leader
My name is Peter Brock and I have lived in Heathfield for 25 years or so. I am married to Dawn who also drives the minibuses and we have two Springer Spaniels who share our home with us!
I worked for Philips electronics for 43 years in various roles covering purchasing, materials management, planning, customers services and prior to retirement was distribution manager responsible for the warehousing and distribution of all in and outbound flows.
My hobbies and interests include playing bass for a local 4-piece band, The Yumyums – yumyums.org.uk  We play local gigs, festivals, parties and charity events – why not book us for your party or event?! I am a keen fly fisherman and water keeper for Sussex Piscatorial Society's local venue in Possingworth. When time permits I also enjoy wood turning and have exhibits for sale via Ashdown Forest Centre & am a member of Ashdown Wood Turning Club.
I decided to volunteer with Age Concern as I wanted to give something back to the community in which I live and am happy to support this charity – I enjoy driving & assisting clients, many of whom have such interesting stories to tell. I was previously involved with the Lions Club. As well a driving the buses I am also responsible for carrying out monthly vehicle checks – oil, tyres & pressures, water, screenwash, fuel and wash and hoover the vehicles as required. You may also recognise me from my role on one of the Country Lunches Teams.
Chris and Kim Clinch
Medical Car Service Managers & Volunteer Car Drivers
We would like to introduce Chris and Kim Clinch. They have been married for 30 years and, after a career in the Sussex Police Force, they moved to Cross-in-Hand from Chichester some two years ago. Chris and Kim are keen gardeners and the house they bought needed some major renovation, so, together with sorting out the garden, it initially took up all their spare time. But, once they had made everything 'ship shape', they were keen to put something into the community and, after a visit to the Volunteer Centre in Heathfield, they signed up to help with the Scout movement in Heathfield and also the Age Concern Medical Car Service as drivers – something in which Kim is well versed, having worked with SECAMB in the past.
When Carol Ewart decided that it was time to take a break from the everyday demands of the car service administration, Chris and Kim stepped in and offered to take it over. They have now been running it for the past three months and are doing an admirable job. The task requires some time every day to organise volunteer drivers to take clients to their medical appointments and they have made some changes to the booking arrangements so that they can now organise drivers well in advance. However, we still have a shortage of drivers and the booking requests are always increasing; we are therefore constantly seeking further volunteers for this most rewarding role. So, if you have a family member or know of anyone who can spare some time each week and might like to help, please do let us know.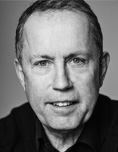 Richard Evans-Thomas
Minibus Driver
My family and I moved to Turner's Green – a small hamlet between Three Cups and Rushlake Green – nearly four years ago, from Barcombe. We love East Sussex and can't think of a lovelier county. My wife works at Glyndebourne, and I am lucky beyond measure to enjoy all the privilege (but none of the responsibility) of indulging my passion for opera; we have two children – my son George is at university and my daughter Flo has just taken her GCSEs. We also have two horses, two Labradors and a large cat.
After many years in marketing and advertising, both in agencies and as a client, I took the plunge and embarked on a second career, as a professional actor, in 2015. To date I have appeared in a number of plays – most recently in the Brighton Fringe Festival – and a couple of short films; it's a precarious life, but my wife is hugely supportive, and I love it. I nearly opted for a theatrical career on leaving university but – with the benefit of hindsight – wisely decided not to risk spending my whole life on or below the bread line!
Having been so grateful for the care provided to my father in his later years, and mindful of the huge benefits to older people of independence, company and a change of scene, I had no hesitation in accepting Bill Philps' invitation to join Age Concern's team of minibus drivers. Our passengers are great – interesting, funny, and hugely appreciative, and know their way around the Co-op as if it is their second home!

John Friend
Minibus Driver
I have lived in Mayfield since 2003 and worked in the printing industry for 45 years. I am retired now and enjoy bowls, football and cycling.
I became a volunteer with Age Concern to help others and put something into society.

Nicola Friend
Minibus Escort
I have lived in Mayfield since 2003. Before retiring, I worked in admin, apart from time off to have children. I now enjoy zumba and cycling. I joined Age Concern Heathfield as a volunteer, as I enjoy working with and helping older people – I worked in a care home prior to retirement.

Ken Jarvis
Minibus Driver
I'm Ken Jarvis and, with my wife Mandy, moved to Broad Oak from Kent a month after we both retired in March 2015. I worked for nearly 44 years for the Kent Library Service in various roles, for the last 20 being responsible for the overall management of the county's stock in its 100+ libraries. This included managing contracts for the purchase of books and e-books and debt recovery; I also managed the internal van delivery service.
I walk a lot to try to keep reasonably fit (and because I enjoy it!), read all sorts of things I didn't seem to have time for when I worked, enjoy good food, and listening to and playing music. At various times I have played piano, organ, Appalachian dulcimer, and accordion, although the days I inflicted it on the paying public are long gone! I do still play for my own enjoyment though. I am also a volunteer editor for the Wealden Talking News.
When I first retired I did volunteering stints in Bateman's and Uckfield Lions second hand bookshops – with hindsight they were a little too close to work! I started driving for Age Concern after visiting the Volunteer Centre where they suggested that enjoying driving and the need to do something useful might be a good match, and so it has proved. As well as meeting lots of new people, both fellow drivers and clients, it really does feel that I'm helping to provide a service that adds quality to people's lives – and getting to know the local area is an added bonus!
Mandy Jarvis
Website Editor, Newsletter Designer and Executive Team Member

Elizabeth Keating
Secretary & Minibus Transport Administrator
Hello, I am Elizabeth Keating. I first joined Age Concern in 2011 in answer to an advert for help. Since then I have been involved behind the scenes doing anything that was needed at the time.
When I retired I needed to meet other local people, as I had always commuted to London and didn't know anyone.  I also wanted to give something to the community I was going to live in.
I have always worked with people, for many years in the NHS as a therapy radiographer and since retiring I have owned a tea shop with my husband and also worked in other local cafes.
I now support two main interests with the patients' group at Heathfield Surgery and Age Concern and hope to be able to make a useful contribution for a long time to come.

Malcolm McKelvie
Minibus Driver
Malcolm worked for 40 plus years in human resources – rising to the "dizzy" heights of Vice President of HR and Administration, for a US based Company.
He has a passion for angling – barbel, in particular, all things WESSEX, ("Hamshere" born 'n' "Hamshere" bred) and Pompey (Portsmouth Football Club), where he has been a season ticket holder for as long as he can remember!!
Malcolm joined Heathfield and District Age Concern, initially, as a driver, because "some-one was 'doing it' for my Mum in Hampshire and I wanted to do to the same for theirs, here in East Sussex."
Malcolm really looks forward to his time "on the buses". He gets great satisfaction out of enabling others to get about, and, in particular, enjoys the FUN!!

John Murray
Minibus Driver
My name is John Murray.  I have lived in Mayfield since 2000 and was previously a resident of Tunbridge Wells for 17 years while our children were growing up.
Prior to retiring I had a varied career, working in the shipping, agri-food and healthcare sectors but always focused on the development and implementation of public policy.  Now my main hobbies include walking, writing and music but I am also working as a volunteer for an exciting venture based in the Netherlands which aims to clean up some of the 5 trillion pieces of plastic in the oceans.
I was keen to do some volunteer driving with Age Concern because of the important support the organisation gives to older people in need.  It helps that I also enjoy meeting people, learning about their interesting and diverse lives and, of course, driving too!
Bill Philps
Minibus and Medical Car Driver
After a career spanning thirty five years in the service industry culminating in the role of Chief Executive of a national security business employing in excess of 3,500 people, Bill had a Film and TV Location catering business which fed the cast on many well known TV series and films. He then became an Associate of a Corporate Finance House heading up mergers and acquisitions in the service sector, where, although now retired, he is still available as an advisor. Upon moving to Rushlake Green in 2013 Bill decided that he would like to give something back to society and invest some of his time in volunteering and supporting the local community, so he applied to an advertisement in the Parish magazine for a minibus driver for Age Concern in Heathfield. After completing a "gruelling" driving test and interview with the then Co-ordinator Clarence Pont, he became a driver on the weekly Heathfield Shopping bus where he really enjoys the "buzz" of helping the elderly passengers. As he became more involved with the organisation he realised that he might be able to help further and was asked to join the Executive Team, of which he is immediate past Chairman. Bill together with his wife Louise, are both familiar faces at the fortnightly Country Lunches in Punnetts Town where they are helpers on two of the teams. They are also heavily involved with the local community in Rushlake Green where they organise the annual "Big Lunch" in June each year. Bill's spare time is taken up with water colour painting and his family. He has five children three of whom live overseas, so it's fortunate that he loves to travel!

Natasha Read
Medical Car Service Team
Hi, I'm Natasha Read. I moved from Middlesex to Heathfield with my husband about 15 years ago. We have two children and two rather crazy rescue dogs. My family are my world and I love to spend as much time with them as I can but I also really enjoy going to the gym when I can fit it in.
Prior to having my children I was Hire Office Manager for a busy audio visual company.  More recently I worked at a pre-school dealing with the accounts.  With one child at school in Ringmer and the other in Burgess Hill my current job title should probably be taxi driver!
With the little spare time that I have, I really wanted to spend it doing something worthwhile within my local community. I met Bill Philps (Age Concern Chairman) a couple of years ago and when he told me recently of this opportunity and that I would be able to fit in around my other commitments, I was excited to help.
David Robinson
Treasurer and Executive Team Member
David brings with him a wealth of experience as a semi-retired chartered accountant. He qualified in 1973 and spent 20 years in the motor trade at both Stormont Ford and Pipers Vauxhall dealers in Tunbridge Wells, as well as working in the North Sea oil and construction industry. He then formed his own accountancy practice in Horam which he ran for fourteen years before selling it in 2014. David still retains an interest and looks after some twenty percent of the clients from his former practice, working on this for a few days each week. However since selling he has more spare time and has been keen to invest some of this into helping local causes. In addition to his role as Treasurer of the Rotary Club of Heathfield & Waldron he has agreed to join us to put his accountancy background and knowledge into assisting us with the running of the charity, with particular emphasis on investment and fund raising.

Ian Speedie
Minibus Driver
Upon retirement, I moved to Horam in May 2011 and then to Ringmer in October 2014. I started work in 1967 and qualified as a chartered accountant in 1972. I became a partner at that time and stayed in practice until retirement – a long time in one place but good fun. Hobbies include serious DIY in the past and still help the 'kids' occasionally now, whilst enjoying time with the latter and the grandchildren. Julie and I enjoyed our boat, sea sailing for some 15 years, selling 'Spray' last October. We now cycle and walk and visit places of interest as well as some yoga and keep fit for good measure!!
I saw an advert in 2011 from Age Concern (Clarence Pont) in our Parish News so, as I enjoy driving, I made the call and the rest is history. It's good fun, I enjoy driving the bus and feel that we are helping people. Julie of course has been by my side in all of this.

Annabel Williams
Minibus Driver
My name is Annabel Williams. I am married to Tim and we have three daughters, the youngest of whom is just about to leave home and join her sisters in London which I am dreading – thankfully we have two Labradors, too!
We live in Vines Cross, near Horam, where we have been for 12 years.
Tim and I ran a Records Management company in Eastbourne until we sold it a couple of years ago and are busy thinking of what to do next. In the meantime, when we're not in our camper van, I spend most of my time bent double in the garden (and quite a bit of time on a tennis court or hockey pitch, too!)
I came across Age Concern whilst helping out with Country Lunches, thought it sounded like a wonderful organisation and joined their ranks a year or so ago. During that time I have met some really lovely people both behind the wheel and in the back of the bus and thoroughly enjoy my outings with you all.