Up, up and away……..
The start of spring is upon us, with longer days and even some warmth to the sunshine.
It is so lovely to report good news – all our services are now fully operational and as well as the regular, weekly journeys, we have a good variety of outings which we hope you will all enjoy.
The latest edition of our newsletter has details of up and coming outings, and they are also available to view on this website.
If you would like to book a place or find out more information about any of our services, please phone us on (01435) 866960 
 Our preference would be for everyone to continue wearing face coverings when traveling with us, especially with the latest rate of Covid infection still being so high. A small precaution will go a long way to protecting you all, and together with the hand gels on board the buses, and the santising bombs, we hope everyone will remain as safe as possible.
We shall look forward to the improved spring and summer weather, and to enjoying some fun activities with you all!
Keep safe 
Dawn Brock and Alan Hale  – Co Chairmen, Age Concern Heathfield and District
Tel: 01435 866960
Email:
Thank you Horam PC!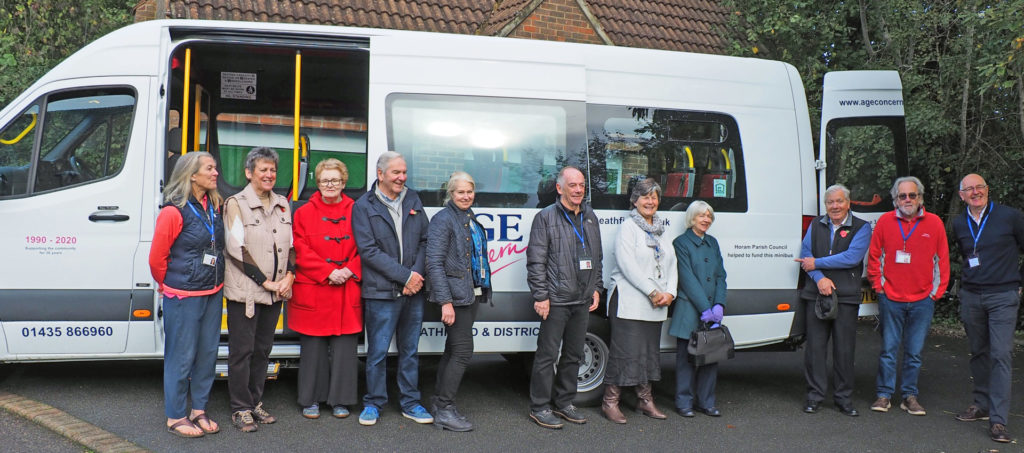 We are delighted to announce the arrival of our brand new minibus! This new addition to our fleet will provide a more luxurious ride, is equipped with heating and air conditioning throughout, and is fully accessible. We shall be using this bus for our longer journeys and trips out which we hope will make things much more comfortable for you.
The very generous donation, given to us by Horam Parish Council towards the funding of this bus, has enabled us to replace our oldest bus earlier than anticipated and training for our drivers is well underway. The new minibus will be out and about on the roads for all our trips from November onwards.
Our minibus service is available for anyone living in the TN21 postcode area to use, as long as you are over 60 years of age or are registered disabled. We operate a range of regular journeys each week to the local lunch clubs and for shopping trips to Heathfield High Street and the Co Op. We also have our popular programme of trips to different places each month- we try to provide something for everyone!
Our buses can also be booked by homes or social clubs to provide transport for their own outings.
For further information or to book a place on the bus, please telephone (01435) 866960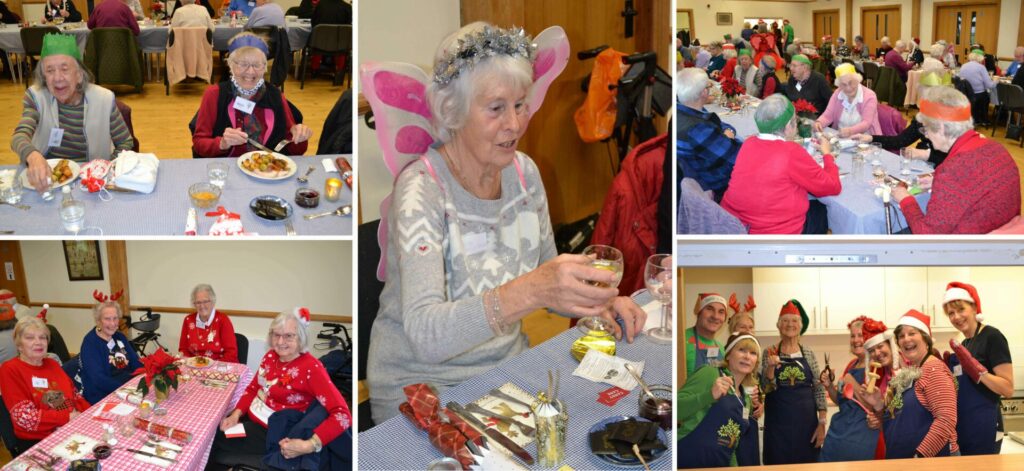 Clients enjoyed a festive treat at Country Lunches, where they were served a Christmas dinner with all the trimmings, together with a traditional Christmas pudding, custard and brandy butter dessert!
A welcome drink, music, raffle and a team of enthusiastic elves and fairies completed the day, with everyone being given gifts of homemade shortbread or mince pies to take home with them. Lots of smiley faces and full tummies!
Country Lunches is now closed for the Christmas break, but will reopen again in Wednesday 5th January 2022 and fortnightly thereafter. It is held at the Punnetts Town village hall.
Anyone wishing to come along should phone Annabel 07808 000615 or Julie 07834 782366 to book a place. Transport can also be provided by one of our fully accessible minibuses by phoning 01435 866960.
New for Spring & Early Summer!
We always welcome suggestions or new ideas of places you would like to visit, so please let us know if it is not on our Spring and Early Summer 22 Trips Programme.
We are happy to accommodate walkers and folding wheelchairs on the minibus – please let us know when booking that you need to bring one with you. We would suggest a £5 donation for the transport for these trips – your choice of food and drink will be extra.
For more information or to book a place on any of these trips, please ring: (01435) 866960
Click here to read or download our trips programme for Spring and Early Summer 22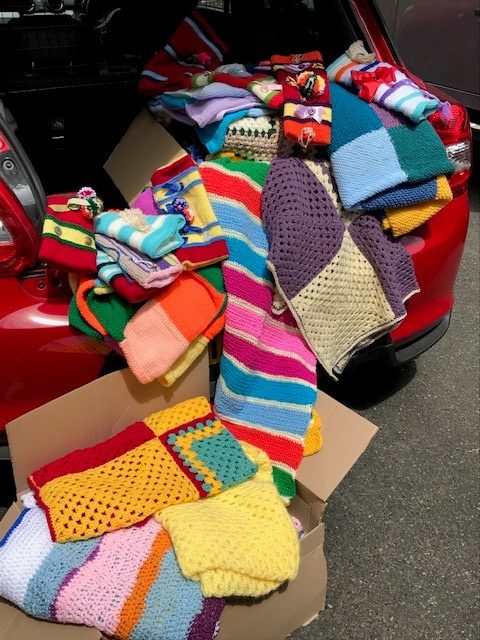 The latest batch of beautiful blankets have been delivered to our local nursing and care homes. In total 96 blankets and 30 fiddle muffs have now been distributed to Heffle Court, Millcroft, Oaklands Court, Holy Cross Priory and Mary St Dudwell. Well done and thank you to all our knitters!
If you would like to take part in our knitting project please phone 866960
We're Officially Open!

The Heathfield & District Men's Shed (HMS) is the newest and latest project funded and supported by Age Concern Heathfield & District. The idea of the Men's Shed is to provide a place for men to create, converse, connect, socialise and to meet regularly, share skills and ideas and – above all else – have fun, and meet and make new friends.
We are established members of the UK Shed association (UKMSA) who now have 584 Men's shed's listed, of which we are one and a further 140 in build. 
Many of the items made by members of the Men's Shed will be available for sale at various local markets, and through our Facebook page. Wherever possible items are made from recycled materials and sourced locally. 
Strong links have already been formed with other local community groups such as Brighter Heathfield, Heathfield Benefice and the Heathfield Bonfire Society, where joint projects will be undertaken to support each other and the good of the local community. 
Because of the idyllic location of the Heathfield and District Men's Shed we will be able to offer a wide range of activities from woodwork and woodturning, to art, photography, gardening and walking. There will also be further scope for participation in some inter- generational projects with the adjacent nursery school children, which will be exciting and provide many benefits for all involved.  
In addition to our 'Shed' we also have the use of an adjacent wooden building which serves as an office and an area to sit and enjoy a quiet chat, relax or have something to eat and drink.
Our sessions are currently held on Tuesdays and Thursdays starting at 10.00am and finishing at 3.30pm. This allows for members to enjoy a lunch break together, or for those members less practical who want to enjoy the social aspect of belonging to the Shed, to join others for a bite to eat and a good chat.
If you are interested in finding out more about the Heathfield Men's Shed, or would like to become a member, please phone 866960 or email us: or visit our website: www.ageconcernheathfield.org.uk
Peter Brock
Acting Chairman, Heathfield Men's Shed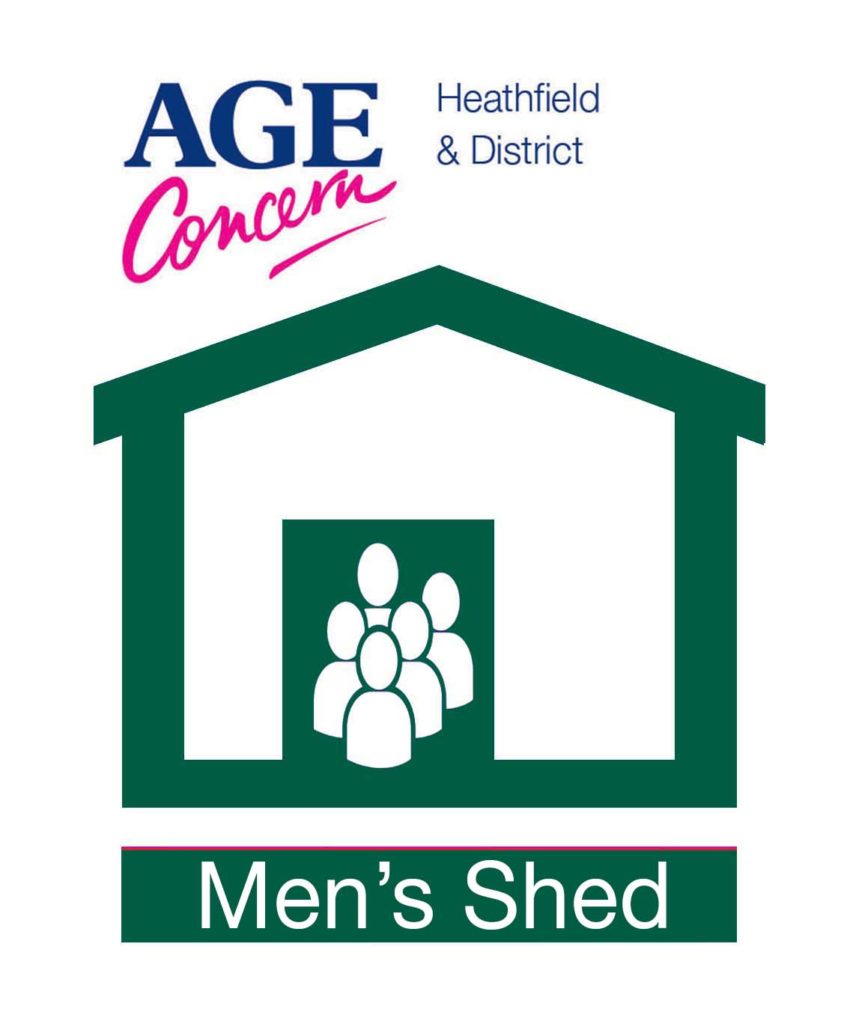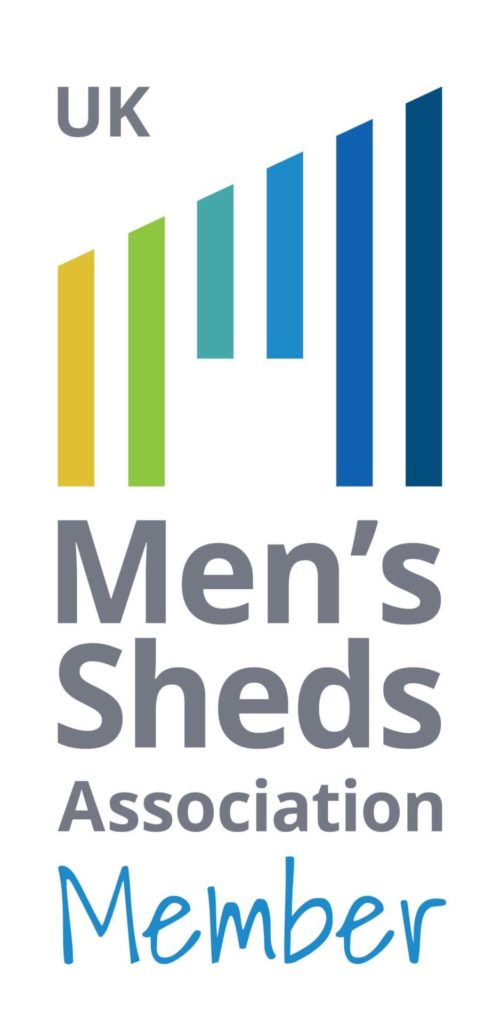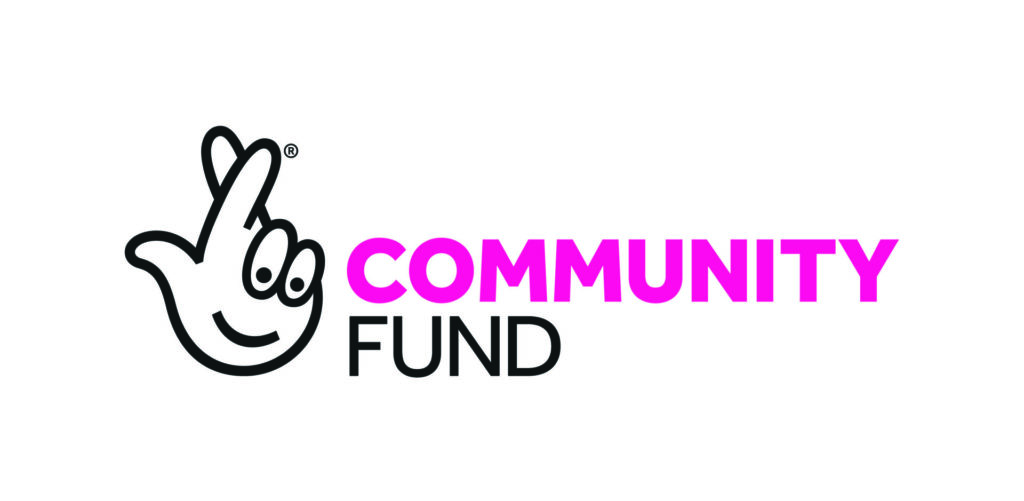 Since the early days of the Shed, even before we had physical premises of our own, we have produced items for sale at local markets to raise funds to support our continued operation.
We will be at Heathfield Farmers' Market in April, October, November and December and look out for us at other local events during the remainder of this calendar year such as the Rotary Classic Car Rally on August 14th and Le Marche on 29th August  – it would be great to see you at any (or all!) of them:
click here to view the Shed gallery
click here to read two poems written by Shedder, Keith Johnson