Welcome
Welcome to Age Concern, Heathfield and District.
We are a local, independently registered charity (Charity Number 205665), affiliated to the national organisation rebranded as Age UK. Growing older can be a frightening and lonely experience for some people. Age Concern aims to encourage social interaction, happiness and confidence to embrace life in later years and above all else to promote independence and well being.
We are run totally by volunteers, so we are always looking for new recruits – if you would be interested in joining our friendly team, or would like further information on ways in which you could help us, please give us a ring:
Tel: 01435 863656 or
email: info@ageconcernheathfield.org.uk________
The Men's Shed

We are pleased to say Phase I of our Shed Project is complete, thanks to the Shedders who assisted with our build during May. The Phase I site is now up and running with regular meetings and open days are scheduled. We are focusing on numerous 'To Do' items and we will shortly progress the planning application for main building. If you would like further information please contact our Membership Secretary for further information, open dates, membership forms and the like: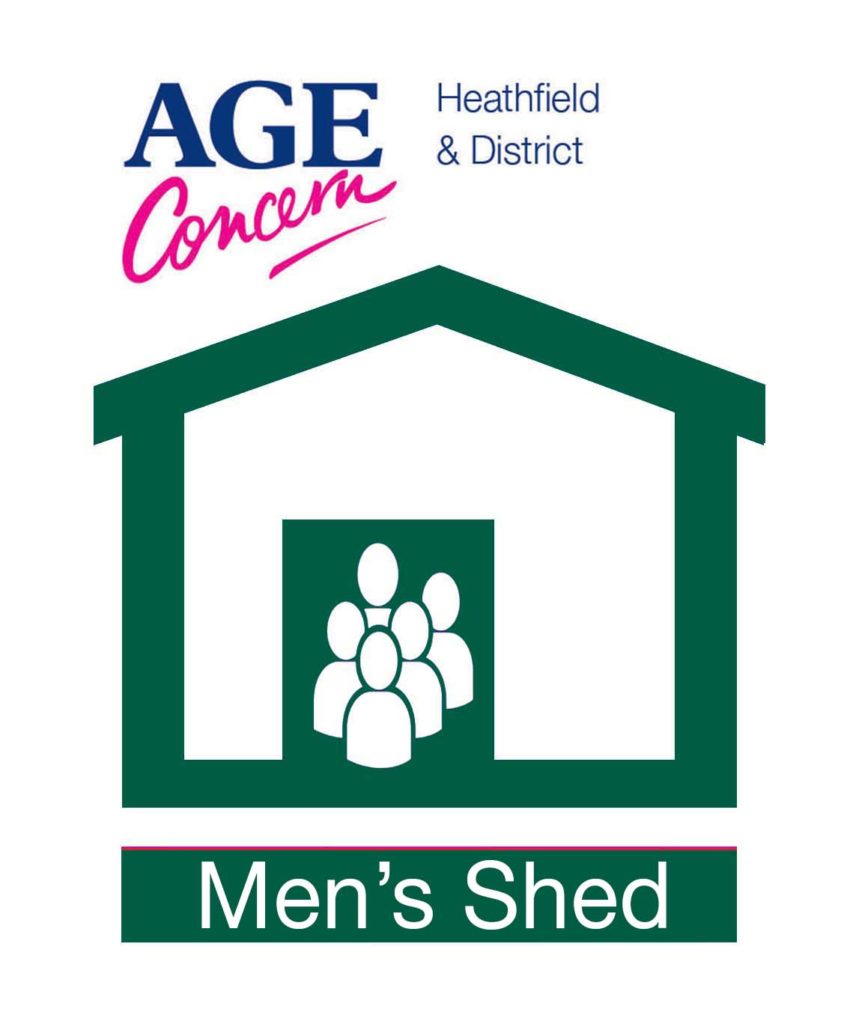 Nic Stenhouse (Membership Secretary)
Phone: 07850 992059
Email: shed@ageconcernheathfield.org.uk
We are keen to obtain any surplus tools, machinery, gardening equipment you may have and put it to good use. If you have any such items, please let us know. We are also seeking funding for our expanding 'Wish list' of kit, in readiness for Phase II; any support you can give would be greatly appreciated. Key dates for August are as follows and we would very much welcome your support at either the Classic Car Show or Le Marche:
8 August
Clean Shed open
10.30am – 2.00pm
11 August
Rotary Classic Car Show Waldron Recreation Ground
12.00 – 5.00pm
15 August
Shed Meeting followed by Open Session
10.30am – 2.00pm
26 August
Le Marche Stall, Heathfield
9.00am – 4.00pm
29 August
Clean Shed open 10.30am – 2.00pm

Do you have a few hours to spare?

Would you like to do something rewarding?
With more and more clients using our services, we are looking for new recruits to join us, especially volunteer drivers to join our Medical Car Service Team, using their own car to take clients to doctors, dentists and hospital appointments – drivers can claim 45p per mile in expenses to cover the journeys.
If you have a few hours to spare each week – or even each month – then we would love to hear from you.
For more information please call Natasha Read on 07518 917380 or email: info@ageconcernheathfield.org.uk
Our partners at Age UK East Sussex are coming to Heathfield with their Information and Advice Outreach Vehicle on:
Friday 16th August
10.30am – 3.30pm
Recreation Ground, Sheepsetting Lane
They can offer advice on:
Benefit checks

Pension credit

Attendance allowance

Housing issues

Finding support at home

Choosing a place in a residential care home

Health and social care

Leisure and social activities

Family and personal matters

Filling in forms

Accessing local services

Utility bill queries

Any other issues that affect older people
If you would like to know more about the Age UK East Sussex Information and Advice Outreach Service please call them on Tel: 01273 476704