Service Update
We are now entering the 28th week since going into lockdown and the start of the Covid-19 pandemic. The shopping and telephone buddy services are still operating and, whilst numbers have now reduced as people are returning to shopping for themselves etc., we still aim to continue running both services for as long as they are needed.
Some of our volunteers have now returned to work, whilst some of the younger ones have returned to university to continue their studies but we still have a dedicated team of volunteers willing to carry on.
We are extremely grateful to all of our volunteers who have worked tirelessly to make sure everyone has been well looked after over the difficult weeks and months that we have all experienced.
In addition to the shopping and telephone buddying services, the Book and Jig Saw Swap Bus and the Knitting Project will also continue to run. Clients can book a visit from the Swap Bus where there will be an opportunity to borrow books and puzzles to help while away the hours of isolation, and the Knitting Project will provide wool, needles and instructions for knitting six inch squares which will then be sewn together to create blankets and bed runners for residents at Heffle Court Nursing Home. Anyone wishing to book a visit from the bus or who would like to be part of our knitting project, please telephone 01435 866960.
The Executive Team has continued to monitor closely the government guidelines relating to offering transport to others, but sadly the rigorous requirements of face coverings, social distancing and sanitising of vehicles, still means we are unable to resume these services for the time being.
We will continue to assess the situation as guidelines change, but our most important priority is for the safety of both our clients and the volunteers.
Meanwhile, we are aware that many of the hospital out-patient clinics have reopened and clients are receiving letters inviting them to attend consultations. As we are unable to offer help with transport at this time, we have taken the decision to set aside some of our Covid-19 funds to help subsidise the high cost of using commercial taxi firms. If you are one of our regular clients and require transport to a hospital appointment, please get in touch to see how we may be able to help, by telephoning 01435 515090.
As this Covid-19 pandemic continues, we will be looking at other ideas and ways in which we can help to support clients over the coming months, especially with the onset of Autumn and Winter.
We will keep you posted of any new ideas we may have, but in the meantime, if you, or anyone else you may know have ideas or suggestions please let us know – we are keen to support you in whatever way we can.
Please continue to keep safe and well
Take care
Dawn

Dawn Brock Chairman, Age Concern Heathfield & District
Tel: 01435 866960
Email:
Click here to read our latest News Sheet
Last updated 12 September 2020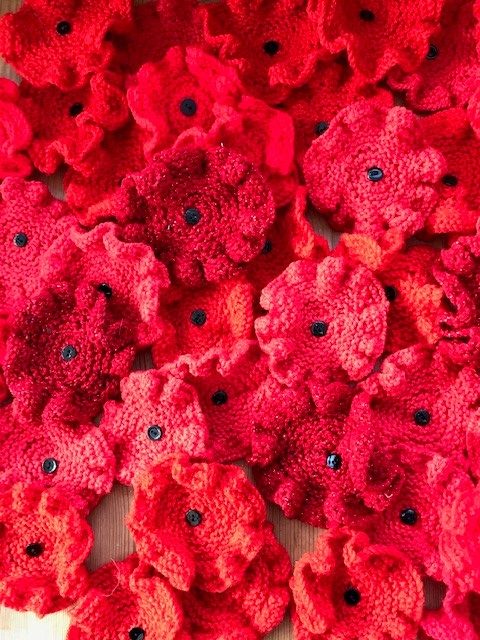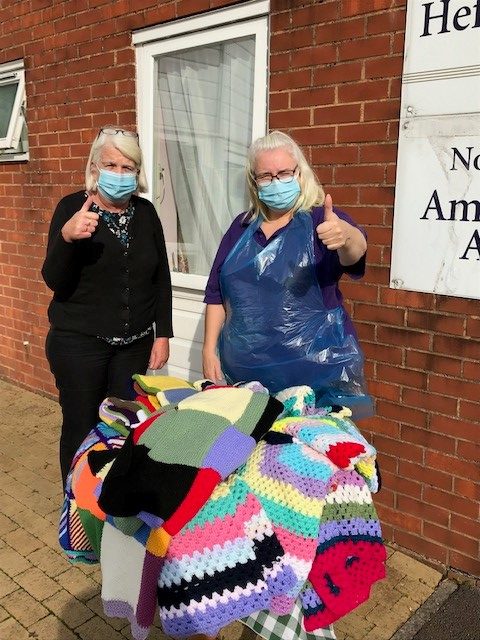 Our team of knitters have been very busy clicking their needles to produce an array of beautiful knitted and crocheted squares which have then been sewn into blankets and given  recently to the residents of Heffle Court.
Some members of the team have also knitted poppies which will be sold locally and the proceeds of which will go to the Royal British Legion. 
If anyone would like to join in with our knitting project, please telephone 866960 and we will happily supply you with needles, wool and instructions. 
The Men's Shed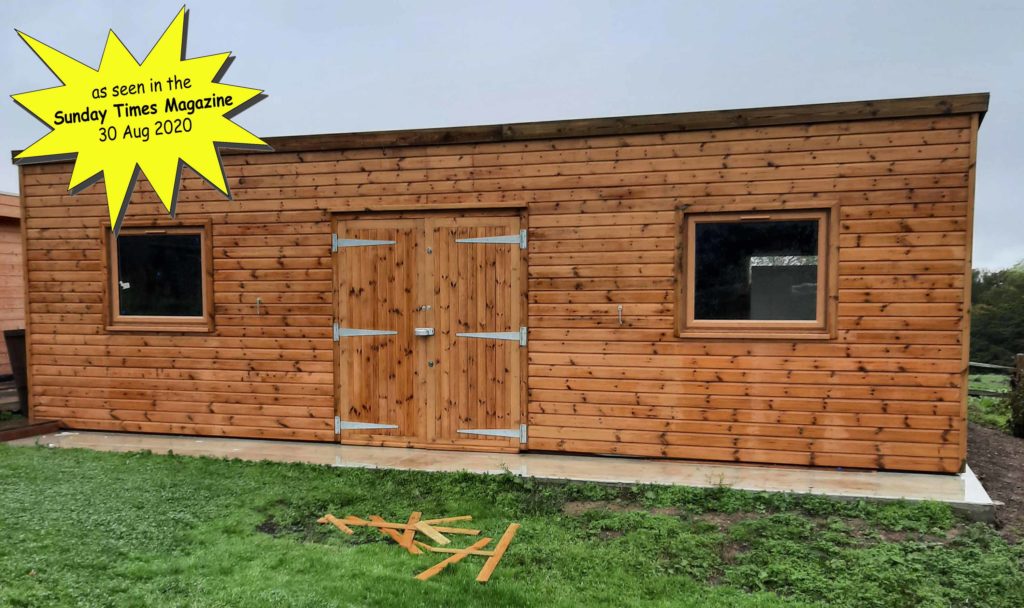 Click here to see the build progress in our photo gallery.
Construction of the Men's Shed Workshop is more or less complete bar some niggles that we are addressing to do with build. All work is being carried out in compliance with government social distancing regulations.
The Heathfield & District Men's Shed (HMS) is the newest and latest project funded and supported by Age Concern Heathfield & District. The idea of the Men's Shed is to provide a place for men to create, converse, connect, socialise and to meet regularly, share skills and ideas and – above all else – have fun and enjoy and meet and make friends.
The project has been set up in two phases; phase one was to get a smaller building constructed to provide a welcoming place for the Shedder's to meet and undergo small scale projects together with providing an office and meeting space for the Age Concern Executive Team, whilst waiting for phase two of the project to be completed. Phase two consists of the construction of a large, timber framed workshop which will provide space for tools and equipment to allow us to hand craft items to sell, participate in local collaborative projects and learn from one another's skills.
Membership already stands at 28 and it is anticipated that this number will grow when phase two is completed. Strong links have already been formed with other local community groups such as Brighter Heathfield, Heathfield Benefice and the Heathfield Bonfire Society, where joint projects will be undertaken to support each other and the good of the local community.
Because of the idyllic location of the Heathfield and District Men's Shed we will be able to offer a wide range of activities from woodwork and woodturning, to art, photography, gardening and walking. There will also be further scope for participation in some inter- generational projects with the nursery school children which will be exciting and provide many benefits for all involved. Not only were we mentioned in the Sunday Times Magazine on 30th September, we also feature in Mat Rudd's new book, 'Man Down' – would thoroughly recommend it.
We are established members of the UK Shed association (UKMSA) who now have 594 Men's shed's listed, 145 in build of which we are one.

Many of the items made by members of the Men's Shed will be available for sale at various local markets, through Gemini Cards in Heathfield High Street (who have very kindly offered to display and sell a range of our items) and through our Facebook page.

Whilst we had a range of regular meetings and an active programme of social events these are on hold currently during the current circumstances but will be resurrected as soon as the government allows. Wherever possible we look to source materials locally and recycle wherever possible.

Even though Heatheld Men's Shed is currently closed, due to Coronavirus, our Shedders are still working on projects at home, as you will see from the photos below. Hand-made Men's Shed items will be on display and on sale at the Heathfield Farmers Market at the Co-op on 17 October, 21 November and 19 December.

Brighter Heathfield will be donating shrubs, plants and bulbs to adorn the side of our Shed building. We aim to plant these in October. In the true spirit of partnership, we have been commissioned by them to supply a post box for young children to use for Santa letters during the Christmas period outside the Co-op.

Peter, Chairman Heathfield Men's Shed
Last updated 03 October 2020

click here to view the Shed gallery
click here to read two poems
written by Shedder, Keith Johnson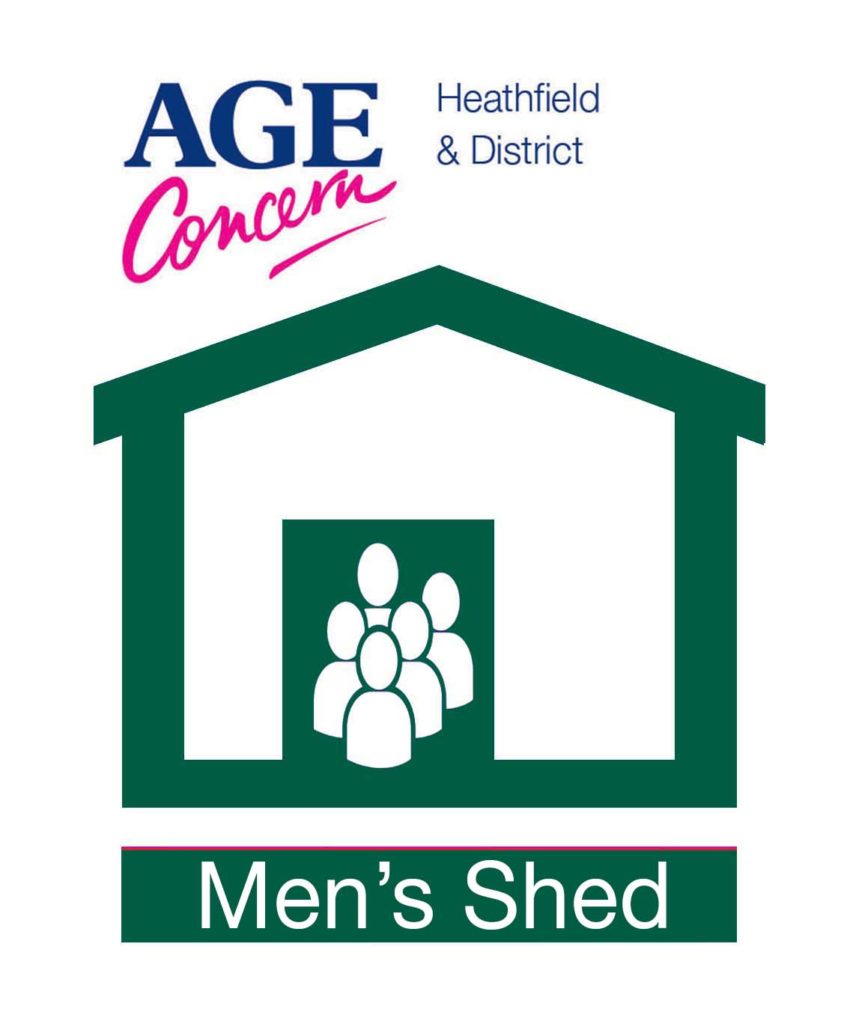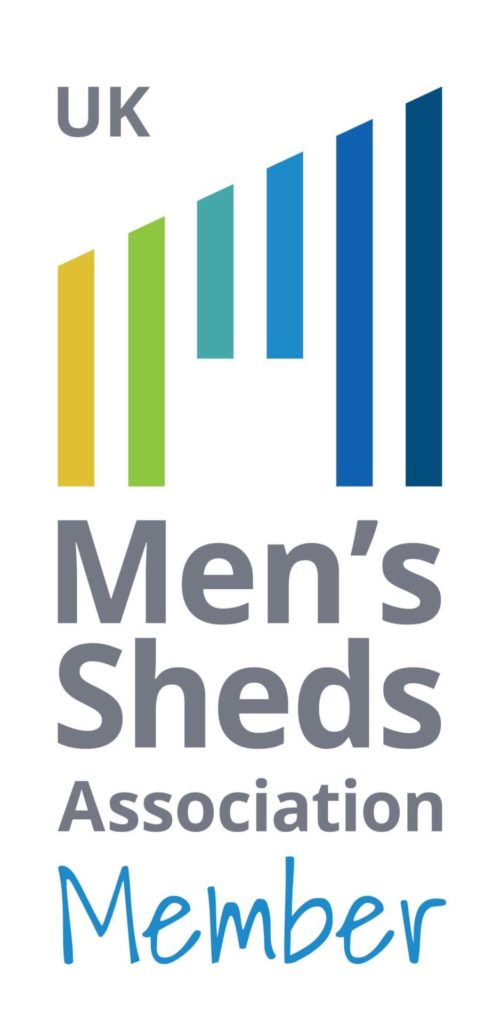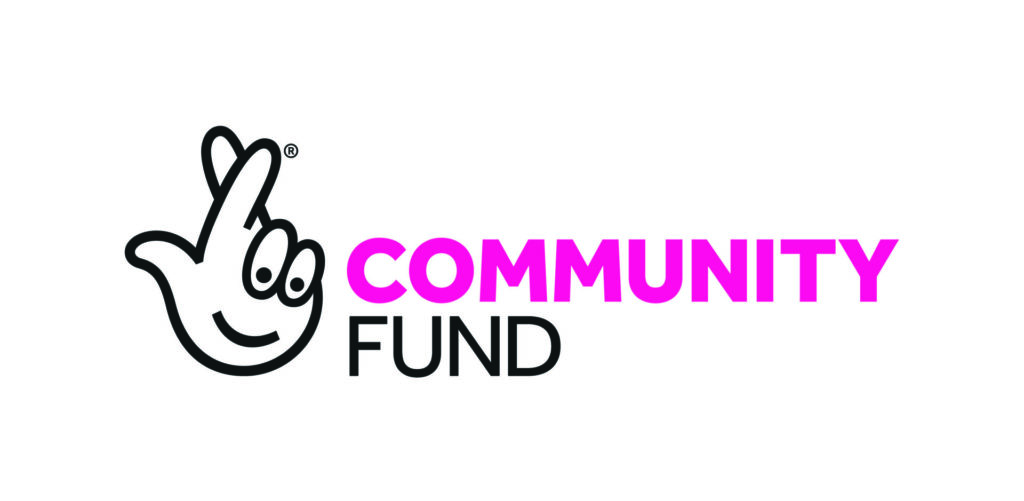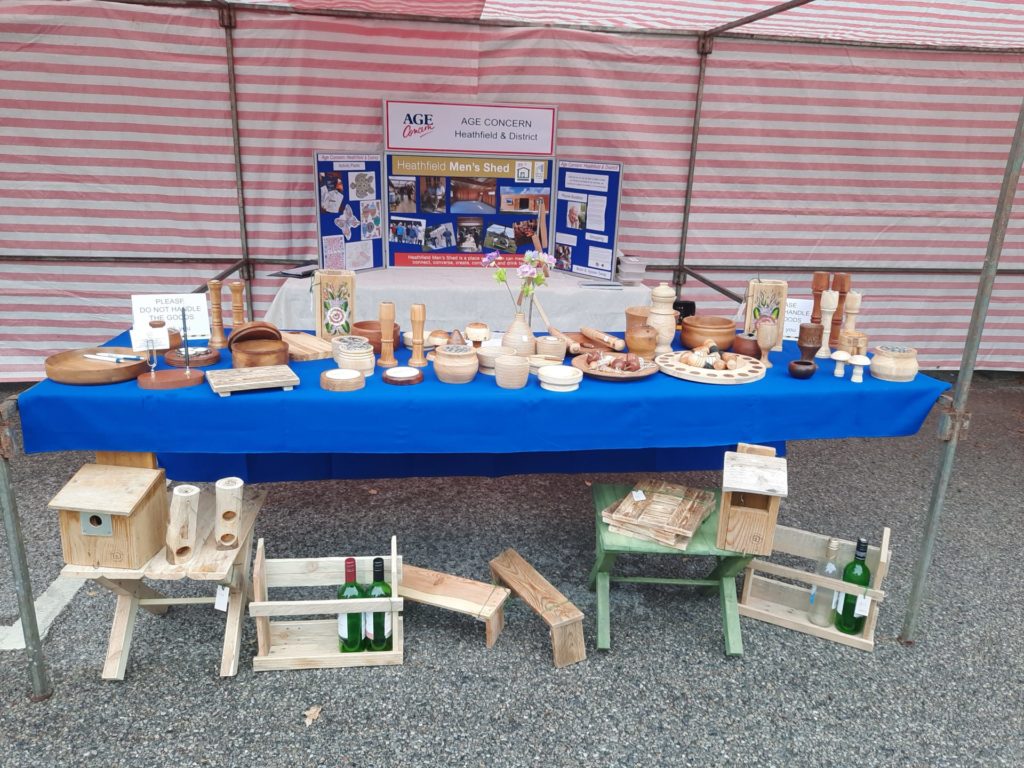 The Heathfield Shedders will be at Heathfield Farmers' Market (in the Co-op car park) on 17 October, 21 November and 19 December, selling their hand-crafted wares.
These beautiful wooden items can also be purchased from Gemini Cards at 40 High Street, Heathfield.
All proceeds go to Heathfield Men's Shed.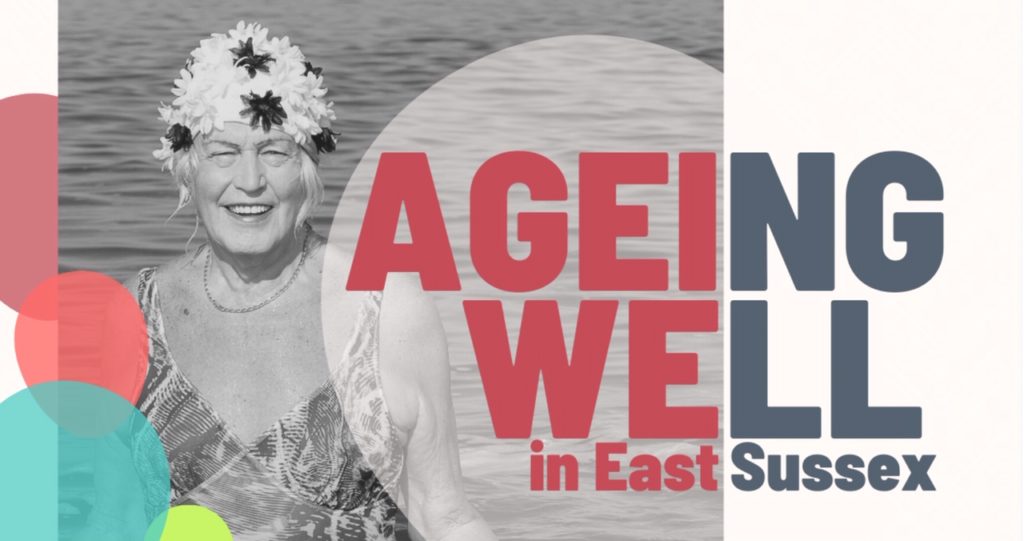 Celebrate Older People's Day 2020 and bring a vibrant and empowering outlook to life after 50!
The virtual Ageing Well Festival is coming to East Sussex this September and October and, you can sign up for a range of inspirational, interesting and educational online events now; from singing, poetry and quizzes, to help with technology and exercise – there's something for everyone.
Click here for more information on the festival and how to join in the celebrations.
or click here to read or download the Ageing Well 2020 Brochure.