AGE CONCERN HEATHFIELD & DISTRICT 1990-2020 … SERVING THE COMMUNITY FOR 30 YEARS
Welcome
Welcome to Age Concern, Heathfield and District. We are a local, independent, registered charity (Charity Commission Number 205665).
Growing older can be a frightening and lonely experience for some people. Age Concern aims to encourage social interaction, happiness and confidence to embrace life in later years and above all else to promote independence and well being.
We are run totally by volunteers, so we are always looking for new recruits – if you would be interested in joining our friendly team, or would like further information on ways in which you could help us, please give us a ring:
Tel: 01435 863656 or
email:
Celebrate With Us!
We hope you will join us for two musical extravaganzas to celebrate our 30th Anniversary!
Tickets are available:
At Lunch Clubs and on the minibuses
By email from:
Tel: 01435 866960 to reserve your ticket or book minibus transport
AN AFTERNOON OF SONG
featuring the Cake and Wine Club Choir 
Sunday 19 April 2020
2.30pm-5.00pm
Heathfield Community Centre, Sheepsetting Lane
Tickets £5 – including afternoon tea
Click here for further deatils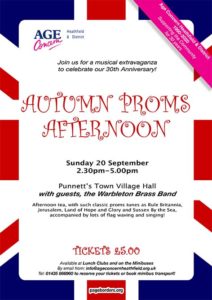 AUTUMN PROMS AFTERNOON
with guests, the Warbleton Brass Band

Sunday 20 September
2.30pm-5.00pm
Punnett's Town Village Hall
Tickets £5 – including afternoon tea
Click here for further details
The Men's Shed

Since our last report, HMS has continued to go from strength to strength. As we start 2020, we can reflect on our achievements for 2019 – we have a strong membership with 15 of those members regularly turning up to every meeting.  We have progressed from holding meetings at the Heathfield Fire Station, to holding  meetings in our own, newly constructed office/clean shed building, and have recently received the exciting news that, under the rules of permitted development, we have permission to proceed with the construction of our larger workshop building which we hope to begin in March of this year
Men's Shed Meetings: March 2020

Thursday 6th
10.30am–2.00pm – Clean Shed open

Thursday 5th
10.30am – 1.30pm – Clean Shed open

Monday 9th
Groundworks for Workshop (tbc)

Wednesday 10th
9.30– 11.00am – Breakfast Social at Hooks

Thursday 19th
10.30am – 2.00pm – Clean Shed Meeting

Monday 23rd
Workshop build (tbc)

Tuesday 24th
10.30am – 2.00pm – Clean Shed open


Click here to download dates for March 2020

Please Note: Visitors and new members are always welcome, but please contact us first, to let us know that you are coming
Please contact: Nic Stenhouse (Membership Secretary)
Tel: 07850 992059
Email:




From 3 February, we will be running a regular monthly shopping trip to the Beacon Centre at Eastbourne.
This will take place on the first Monday of each month. Clients will be picked up from their homes, taken into Eastbourne and dropped off immediately outside the Beacon Centre for two hours of shopping, returning to Heathfield for approximately 1.30pm. For further information or to book a place, please phone the usual minibus number: 01435 866960


We are delighted that Gemini Cards, on Heathfield High Street, have kindly offered space in their front window to display a
small selection of locally turned wooden items. Gemini Cards are strong supporters of local community activities and we are delighted and encouraged by their support.
We hope you will pay Gemini Cards a visit, browse the collection of hand crafted wooden items – and buy one!  Proceeds go to Heathfield Men's Shed.