Age Concern Heathfield & District
Age Concern, Heathfield and District is a local, independent, registered charity servicing the TN21 area.
We have two Co-Chairpersons and an Executive Committee who meet regularly to ensure the efficient running of the service, with our minibus and medical car services, as well as our Men's Shed, run entirely by volunteers.
Click on the buttons below or click through the pages to learn more about us and the services we offer!
The Age Concern Heathfield and District AGM will be held on Friday 24th November 2023, at 2:30pm in the large hall at The Union Church, Station Road, Heathfield, TN21 8LB.  Everyone welcome – we look forward to seeing you there!
Trip to Buckingham Palace May 2023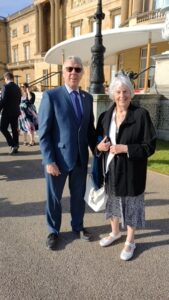 Thelma Wythe and Andy Shakeshaft had the honour of representing Age Concern Heathfield at Buckingham Palace, 3 days before King Charles III became our King.  ACH had been awarded the Queens Award for Voluntary Service and Thelma and Andy were selected by ballot to go the Garden Party.  ACH had been awarded the award while her Majesty the Queen was still on the throne but it was King Charles that they went to meet!
A train ride to Charing Cross station, followed by a taxi ride found them at the back entrance of the Palace garden as this was deemed to be the quicker way in, and judging by the very long queues they made the right decision.  After a quick security check they were walking around the beautiful gardens in very warm sunshine.  Following a sit down to listen to one of the 2 Grenadier military bands and enjoy a cool glass of fruit juice, it was time to make their way to the the Kings enclosure. This proved a good move as the King and Queen passed just 4 metres away from their vantage point and whilst the King slowly worked his way down through the crowd to his tea tent, they got a very good view of Lionel Richie and his wife (in the UK for the Saturday Kings concert)!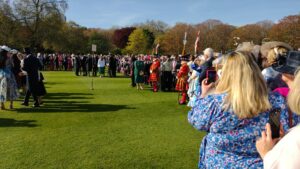 Worried they had missed the tea because they waited to see the King, other royals and guests, they hurried to find theirs – despite missing out on the cakes they were rewarded with delicious sandwiches, wraps and ice cream!
They delighted themselves with another wander around the garden and lake before deciding it was time to join the other 8000 people outside the palace waiting for just 10 taxis that were allowed down the Mall, which had all but been closed in preparation for the Coronation celebrations.  They wisely decided to walk the length of the Mall, soaking up the atmosphere and evening sun at the end of a most memorable afternoon.
King Charles III Coronation Cream Tea
Age Concern clients, volunteers and McCarthy Stone Ridgeway Court homeowners joined together to celebrate the King's Coronation on Saturday 6th May, by sharing a lovely cream tea whilst chatting about the days events!  
Everyone enjoyed the celebrations and went home with themed gift packs of notepad, pencil, bookmark, placemat and quiz.
Queen's Award for Voluntary Service
'Saturday 3rd September 2022 was a very special day- we were formally presented with our Queen's Award for Voluntary Service!
Over 80 past and present volunteers representing the 32 year history of Age Concern Heathfield and District assembled for the event. The Lord Lieutenant of East Sussex, Mr Andrew Blackman together with Deputy Lieutenant Mrs Chantal Wilson presented our Chairmen, Dawn Brock and Alan Hale, with this prestigious award.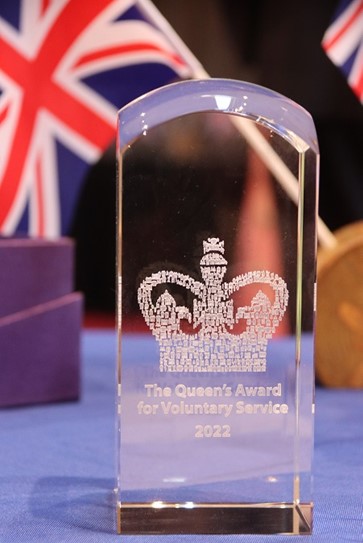 Trips and Diary of Events Autumn/Winter 2023/4!
We always welcome suggestions or new ideas of places you would like to visit; we are preparing our 2024 programme so let us know of any interesting ideas you may have!
We are happy to accommodate walkers and folding wheelchairs on the minibus – please let us know when booking that you need to bring one with you. We would suggest a £5 donation for the transport for these trips – your choice of food and drink will be extra.
For more information please ring: (01435) 866960
For more details read our Latest Newsletter
(Due to high demand, we have introduced closing dates for bookings to enable us to plan buses and passenger lists. We will close bookings for each trip from the 15th of the previous month e.g. Closing date for December trips will be 15th November etc.)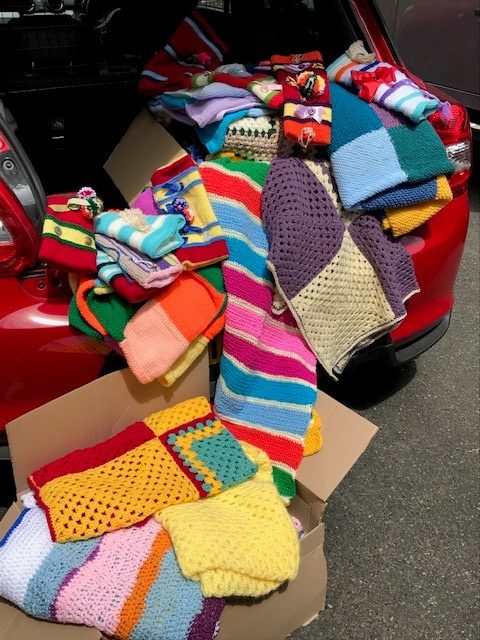 Can you help knit or crochet blankets or twiddle muffs?
Join our group of enthusiastic knitters and crocheters who keep busy all year round making blankets which we distribute locally to those in need during the winter months.
In addition, we also make twiddle muffs which not only keep your hands warm, but are also are very soothing to anyone who fidgets with their hands.
If you would like to take part in our knitting project, please phone (01435) 866960 or email
Heathfield Men's Shed

The Heathfield & District Men's Shed (HMS) is the latest venture linked with Age Concern Heathfield & and is open to men over 60 in the TN21 postcode.
The Shed activity fits in nicely with our aim to support those over 60 years of age in the TN21 area & goes hand in hand with our existing facilities.
There seemed to be a gap in support activity for men in particular over the age of 60 and, after after some initial research it was seen that there was indeed a demand. Read more …