HEATHFIELD & DISTRICT MEN'S SHED

We currently ​have 24 members and meet two to three times per month. We are about to apply for planning permission for our main workshop, which will be located on a site just outside Heathfield, and will be sited next to our existing smaller building.
Our target is to have this up and running in the first half of 2020, a timely opportunity for us to celebrate the 30th Anniversary of Age Concern Heathfield & District supporting our community; in the interim, we have use of the smaller, adjacent building as a meeting area and clean Shed.
We recently had our first commission which is to build a crib scene for the local churches. We have had stalls at the Heathfield Farmers Market, Le Marché and the Rotary Classic Car Day. We exhibit and sell self-made items such as wooden turned bowls, candle sticks, pots, Christmas reindeer and tree decorations, proceeds from which go back directly into our funds.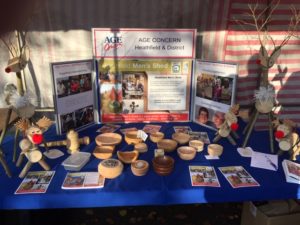 We recently had some success in gaining funding for equipping our Shed and we are also very grateful to local people for their support by donating unwanted tools and equipment.
Our thanks also go to the The Coop, The National Lottery Community Fund, Heathfield Parish Council, Chalk Cliff Trust, 3VA, AirS and Electricbase, who have all supported us.
We are keen to become involved in supporting the community and recently assisted the Heathfield and District Bonfire Society by marshalling their first procession for 62 years. We are also building links with local organisations such as Wealden Works and Young at Heart.
If you would like to know more or are interested in joining please contact:
Membership Secretary, Nic Stenhouse:
Tel: 07850 992059
Email:
click here for a programme of upcoming events and diary dates
click here to view the Shed gallery