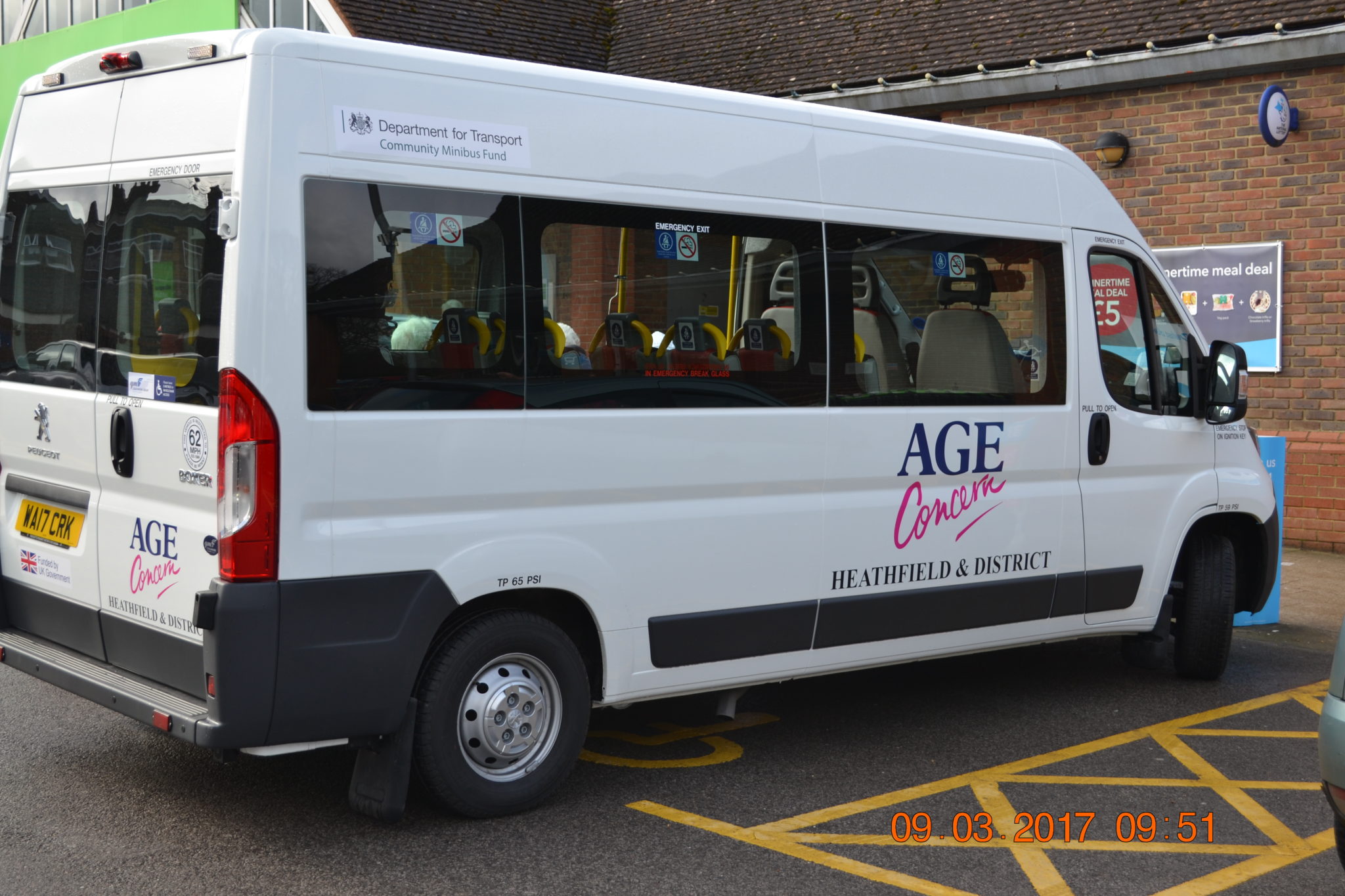 Our minibus service started in January 1990 using a very second hand St. John's Ambulance with a few modifications. Initially we did one regular trip each week, collecting people from their homes within Heathfield and transporting them to collect their pensions and do shopping. In the first 6 months we completed 74 trips and carried 541 passengers. The service is now in its 27th year, and we undertake 13 regular journeys (some weekly, some fortnightly and some monthly) for senior citizen lunches at a variety of venues, social club outings as well as the regular popular shopping trips. The minibuses are also used throughout the year for one off trips booked by local groups and residential homes.
Between them our vehicles now clock up about 500 journeys a year, covering 14,000 miles and carrying in excess of 6,000 passengers.
The minibuses are relatively new Peugeot Boxers and we took delivery of a new one at the beginning of March this year. All of them are specialist conversions enabling wheelchair access. The fully belted seating capacity is for thirteen passengers and they can therefore be driven without a PSV licence. Full training is given to new drivers and the option of taking a simple test administered by a qualified trainer can be offered.
We are a 'not for profit' organisation. There are no fixed fares as such but passengers are encouraged to donate a minimum of £2 per return journey. The majority of passengers give more and the average donation tops this amount.
All journeys are covered by two drivers and we currently have sixteen we can call upon. Some work regularly each week on the same runs, which enables them to reinforce our friendly, familiar and helpful approach to our clients. Others prefer to be called upon from time to time and at times to suit them. Some drivers have been with us for over ten years which is testimony to their commitment and the enjoyment they get from helping others. Our Minibus Service Coordinator, Elizabeth Keating administers this service on a day-to-day basis, and all requests for transportation are made through her on a dedicated line – 01435 866960.
This service has also been running for many years after it became apparent that there was a need for individual transportation as well as a minibus service.
We offer door-to-door car transport for elderly people who need to undertake journeys and especially those which are health related within the TN21 postal district. Such journeys include attendance at a doctor or dental surgery, the optician, the local chiropody clinic and to the hospital clinics in Tunbridge Wells, Uckfield, Brighton, Eastbourne, Hastings and even as far away as East Grinstead and Haywards Heath. Passengers are expected to give at least twenty four hours notice of a request for travel.
The car drivers are all volunteers using their own vehicles. Passengers are asked to pay 45p per mile, door to door. Drivers are entitled to claim 45p per mile per journey, including the 'dead' miles between home and their pick up point and the reverse for the return journey. Age Concern pays for the dead miles from its own funds. (i.e. subsidised by the minibus income)
We require volunteer drivers to check with their insurance company that they are adequately covered. Comprehensive policies are usually fine whilst undertaking charitable work for no reward. Claiming mileage does not constitute reward.
The scheme currently handles in excess of 1400 journeys a year, some 40% of which are for hospital appointments. The demand on the service is constantly increasing and we often struggle to meet the demand. It is a priority for us to enrol more volunteer drivers in order to reduce the pressure on existing ones.
All requests for transport are made by ringing our dedicated car service line on – 01435 882121