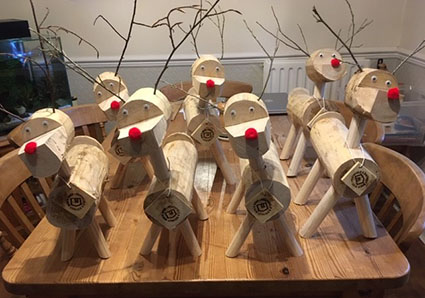 We understand this is part of a local annual migration to the Heathfield Farmer's Market on 21 December.
Each reindeer is individually named and branded by the Heathfield & District Men's Shed. The whole herd is made from local wood which has been responsibly sourced, and they are on sale for £10 each, with all proceeds going to help fund the Shed.
The reindeer will be on sale together with turned wooden items such as bowls, candlesticks, bottle tops, and wooden tree decorations. This year's unique art nouveaux piece is a bespoke bottle opener, crafted at the Men's Shed – so come on down and take a peek. All seek good homes!
If you can't get to our stall on 21 December, you can contact us:
via email at:
or via our Facebook link heathfield.mensshed
or call: 01435 863656